We are getting married at Zbiroh Castle, one of the many impressive castles that dot hill tops across the Czech Republic. The oldest part of the castle dates from the 13th century, with extension and rebuilding continuing until the late 19th century. It has been completely renovated in the past few years and will provide a wonderful fairytale setting for our special day.
How to get to Zbiroh
By car: The castle can be accessed from EXIT 41 of the D5 motorway between Prague (Praha) and Pilsen (Plzeň), which is about 50 km from the edge of Prague. From the airport, turn right onto the R1 motorway for 5 km before turning right again onto the D5. There is ample car parking available. Note that you need a permit to drive on Czech motorways, so make sure that your hire car has one (or buy one at the border if you're driving your own car!).
By train: Some of the trains running between Prague and Pilsen stop at Zbiroh station, which is about 4 km from Zbiroh itself. Timetables can be found at jizdnirady.idnes.cz and are available in English. If you need a lift from the station, Blanka's uncle has offered to run a shuttle with his car; please let us know if you're travelling by train, so that we can tell him who needs picking up and give you his phone number.
The maps below show where Zbiroh is in relation to Prague and Pilsen (the airport is on the northwest edge of Prague) and a more detailed view of the location of the castle (black symbol) in relation to the motorway and railway (Zbiroh station is labelled "1").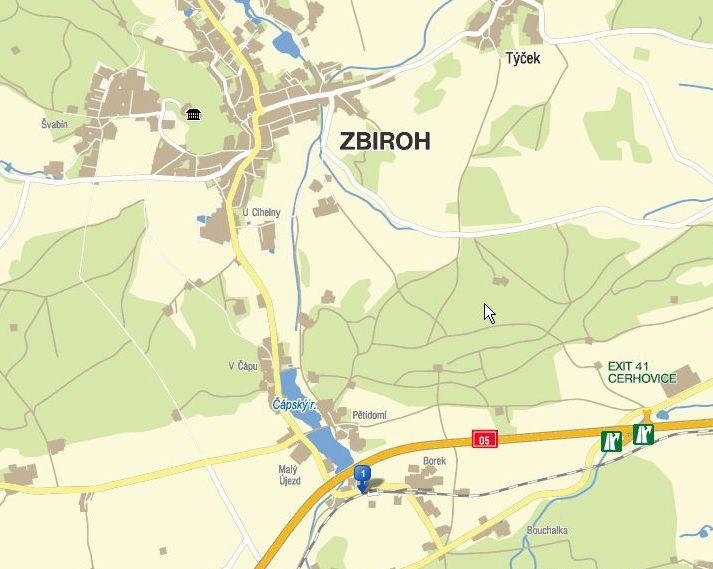 Shared transport
Based on the preliminary replies, we would not fill a coach with people going from Prague to Zbiroh and back. However, there are a number of spaces available in the cars of Czech friends and family members so there will be enough space to take those who've already indicated that they would like transport and probably some others. Please mention in your RSVP if you need transport, including arrival and departure times, and we'll make sure you don't get left behind.